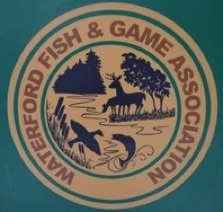 Club Rules
of the Waterford F&G
1. Sunday shooting,
a. No shooting before 9:00 am or 1/2 hr. after sunset or 8:00 pm whichever occurs first.
b. No full automatic firing on Sunday unless a suppressor is used.
c. No law enforcement department qualifications on Saturday or Sunday.
2. No shooting on club property when a funeral is in progress at the Pulpit Rock Cemetery.
3. Monday thru Saturday shooting hours are from 8:00 am until 1/2 hr. after sunset or 8:00 pm whichever occurs first.
Exception; By prior arrangement with the club president for the sole purpose of nighttime qualifications, law enforcement agencies may use the range after normal shooting hours on weekdays.
4. Hearing and eye protection must be worn by both shooters and observers when anyone is at or near any shooting station.
5. a. No one may enter club property while under the influence of illegal drugs or alcohol.
b. No one may consume illegal drugs or alcohol while on club property.
6. No loaded firearms on the benches or firing line when anyone is down range.
7. No one is to handle firearms when anyone is down range.
8. Any child under the age of 16 years must be supervised by a club member of at least age 18 years.
9. All club members will wear their membership card on their outer garment while on club property.
10. No one is allowed to use or detonate any explosive targets or any cannon on club property.
The proper use of the Rifle Range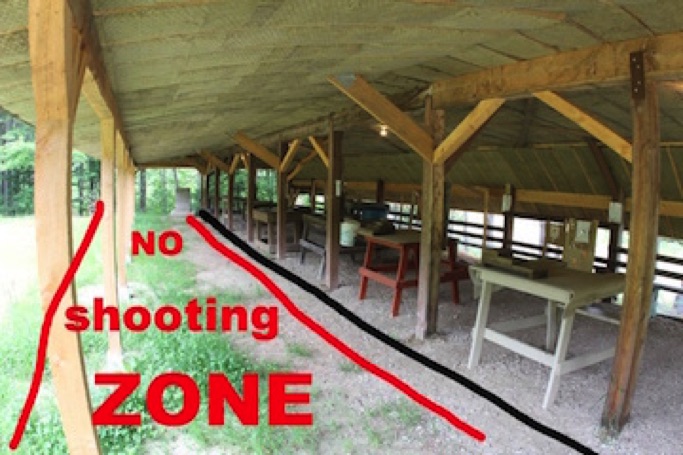 The rifle range produces most of the long range noise.
In order to be a good neighbor the Waterford F&G built at our own cost a noise reduction system. In order for it to work, we ask our members to use this range the proper way.
Do not shoot from the left side of the black line drawn in this picture, meaning in front of the tables.
Do NOT move the tables forward into the "No shooting zone".
Do not shoot in front of the structure.
Please regard the other usage rules of this range regarding the target placement.
Please be aware if there are people visiting the cemetery. Out of respect cease fire until they leave.
In order that there is sufficient light to shoot with open sights the WF&G installed lighting which will be on during operation hours. These lights are LED lights with low electricity usage at a yearly cost of $2.50!
SAFETY FIRST and always be a good neighbor!
Recent changes in Maine laws:
§ 11857. Unlawful possession of ruffed grouse
1. Daily bag limit. A person may not take more than the daily bag limit of ruffed grouse during any open season on ruffed grouse as established by the commissioner.
2. Possession limit. A person may not possess more than the possession limit of ruffed grouse taken during any open season on ruffed grouse as established by the commissioner.
3. Duty to label ruffed grouse. A person shall label any ruffed grouse that the person has taken, before the next calendar day begins, with the name of the person who harvested the ruffed grouse and the date it was taken if that person is within or travelling through the unorganized territory.
4. Penalty. A person who violates this section commits a Class E crime for which a fine of not less than $100 plus $25 for each ruffed grouse taken in violation may be adjudged.
© Waterford F&G 2013 -23 • Tel: 207 583-8296 • marc@mdwguns.com